Have you been caught up in a circumstance where you feel what you are doing doesn't just make any sense?
It is normal.?
Human beings always try to figure out everything in their little peanut brain. And so their conclusions are usually based on sensual perception (5 senses). ???✋?
When people talk about being logical, they believe that there should an argument that is based on some valid points which will eventually lead to the truth. Meaning that there should always be an explanation for everything that happens.
Is it really possible for us to explain everything that we experience here on earth? You may say yes if you look at how science has tried to explain some natural things like the existence of man, conception, evil, good and other things. But how convincing are their findings?
Existence of Man
Let us take the existence of man as an example. According to  "the big bang theory", life started with the Eukarya which later evolved into complex forms — invertebrates, vertebrates, reptiles and so on till man. But how true is this theory? What was the origin of emotions or spirits?
Atheists are big on insisting that truth should be known, and it can be arrived at logically. They also claim that it must be sustained by evidence.
Evidence is usually not always the basis to measure truth. From research, it has been discovered that what you can see is more likely to be manipulated rather than what you cannot see.
So Why really are Christians illogical?
 1. The Truth that Christians Believe
The truth that Christians believe in is one that is deposited in their spirit because they now have the Spirit of God that dwells deep in them. And this is born out of an incorruptible (1 Peter 1:23) seed, meaning that it cannot be manipulated.
The spirit that Christians receive is a spirit that bears witness with the truth alone, and by that reason needs no physical or tangible proof to assert anything at all. John 3:16
"For God so loved the world that he gave is only begotten son that who so ever believes in him should not perish, but have everlasting life".
 2.They communicate in the spirit
The Bible declares that God is a Spirit, and those that worship him will worship him in spirit and in truth. So God communicates with Christians through their spirit. This is why it will not make sense to the natural man.
The normal channel of communication is either vocal, written, or sign language. All these have evidence that man is looking for.  It is logical for anyone to communicate through these means, but because Christians don't succumb to this. They have a higher sense with which they communicated. The sense of faith which is channelled and powered by the Spirit of God who dwells in them.  So you see why Christians are illogical?
Let me give you a personal experience about myself
"After my university education, I was searching for a job for a period of time. Immediately I got one, God spoke to my spirit and told me that I was going to leave that place after 3 months.? That did not make sense, but I obeyed God and when it was the third month I resigned without getting another job.
So I was at home after I had resigned from my job. All this did not make sense to everyone that was close to me at that time, because it was illogical for anyone to leave a job without getting another one. It did not make sense to others, but I understood that God was taking me somewhere better because he had told me. I heard him, and he did take me to a better place. I was illogical because I communicated with God through my spirit.
Christians always work in the spirit that is why they can see and hear from God. The book of Romans 8:5 says
"For those who live according to the flesh set their minds on things of the flesh, and those who live according to the sprit, the things of the spirit. For to be carnally minded is death, but to be spiritually minded is life and peace".
 3. They have faith in God
Christians are illogical because they believe and trust God on everything that concerns them. Faith is quite different from believing. If you have faith in something, it means that believe and trust and don't just believe.
Christians believe and trust that God loves them and he is ready and willing to do anything for them. This is the singular act of faith that makes Christians illogical because faith does not follow logic, it is about believe and trust in God.
The Bible declares that faith is the confidence that Christians have in what they hope for and the assurance they have that God is working things out in their favour. So Christians are not logical because of the faith they have in God and hope in Jesus Christ that all will be well regardless of what they can see physically.
Christians are aware of the devil's devices, and they know when the devil is trying to deceive them through their senses. To put them in a state of confusion so that fear can set in. The devil is aware that fear breaks the wall of faith.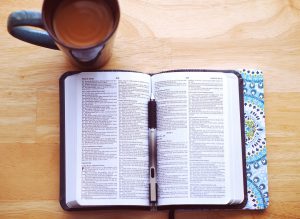 In the Bible the phrase "fear not" was repeated 365 times, which that each serves for a day. Christians don't entertain fear, they rather focus on what God has done for them. The bible tells us in the book of Ephesians chapter 3:20
"The Lord is able to do exceedingly, abundantly above all that we could think or ask according to the power that is at work in us".
4. They have the power
Logical speaking, it is quite normal for a human being to be sad or depressed when faced with problems and issues of life, but how do Christians react to this?
Scientifically, hormones are stirred up when are happy or angry, and if we (humans) are unhappy due to a sad situation they just get sad, bitter, depressed and that is what the devil takes advantage of and use it against them.
How do Christians react to problems that makes them illogical? When a Christian is faced with a particular challenge, he does not fall into bitterness and depression because they know that they have the power to conquer every obstacle and become victorious in anything that they do.
The bible say that he say affirms that in the book of Luke chapter 10 vs. 19 "Behold I give the authority to trample upon snakes and scorpions, and over all the powers of the enemy, and nothing shall by no means hurt you".
It is not possible for someone to have all the power the person needs to exist in this world and be scared. If you are a parent will your children be scared to eat when they know that you have made provision for them.
That is how Christians act too. They are not scared of anything because they know that they have the power to dominate and conquer anything through Jesus Christ.
Christians are illogical because they fight spiritual battles, and this is what a logical mind cannot understand. It is true that the spiritual controls the physical that is why Christians settle their battles spiritually taking canal mind unawares.
The bible says in the book of 2Corinthians Ch.10 vs 3-6 "For though we walk in the flesh, we do not war after the flesh: (For the weapons of our warfare are not carnal, but mighty through God to the pulling down of strong holds;) Casting down imaginations, and every high thing that exalteth itself against the knowledge of God, and bringing into captivity every thought to the obedience of Christ; And having in a readiness to revenge all disobedience, when your obedience is fulfilled".
 Christians have the power that unbelievers have that is why they are illogical.
5. They have the "Name"
Have you ever imagined the gift that God has given to Christians by giving them the name of "Jesus"? Understanding that you can get and access anything that you want on earth with this name is wow! How wonderful.
It is illogical that you simply call a name when you are faced with challenges and all is well. This is simply unimaginable, but with the faith that Christians it makes all sense because God has given them the name that is above all other names.
The name of Jesus is a name that is higher than cancer, higher than HIV/AIDS, higher than a tumour, higher than autism, higher than failure, higher than any disease or problem that you can think of. Blessed be God.
All you need to do is to speak it and believe it and that settles it. The bible says in the book of Romans  10:13
"For everyone who calls in the name of the Lord will be saved".
To be saved from any form of oppression and disease you have to call on the name of Jesus, this is what makes Christians illogical (they have a great name).
In Philippians 2:9-11 the bible says
"Therefore God has highly exalted him and bestowed on him the name that is above every name, so that at the name of Jesus every knee should bow, in heaven and on earth and under the earth, and every tongue confess that Jesus Christ is Lord, to the glory of God the Father".
[embedyt] https://www.youtube.com/watch?v=QhdM5NqSJuM[/embedyt]
Being a Christian and living the life…
may not make sense to other people because it sounds illogical, but it is what distinguishes you from others that don't have the life. Having the life of a Christian is having God. God is the life and he gave us his son Jesus Christ that came to give us life.
The bible says in the book of Job 33:4
"The Spirit of God has made me, And the breath of the Almighty gives me life.
The bible noted that God breathe the breath of life into man and man became a living soul. That air that God breathe into you still works in you. With it you can exhale sickness, diseases, heartbreak, poverty and any form of challenge. According to Genesis 2:7
"Then the LORD God formed man of dust from the ground, and breathed into his nostrils the breath of life; and man became a living being.
You have God, and that is why you have the power, so if anyone tells you illogical smile and know that you have started living your desired life.
Christians are illogical because they believe that their faith is perfected in Christ Jesus. Halleluyah.
What other reason do you have?
Tell us in the comment box. We love to hear from you.
I am a Christian. A happy WordPress Expert who was a Graphics Designer. I write (I have books on Amazon), create WordPress calculators (wpcalculators.com.ng), run a Digital Agency (draganddope.co.uk), and do a whole lot of other digital stuff. I am passionate about changing lives through the infallible Word of God. Do you need my help in any wise? I will be so glad to help you out. 'Helping' is my hobby! Call me on 07011170602