RHAPSODY OF REALITIES DAILY DEVOTIONAL
GIVING THANKS
Friday, October 22th.
Pastor Chris Oyakhilome;
In everything give thanks: for this is the will of God in Christ Jesus concerning you (1Thessalonians 5:18).
The will of God in Christ Jesus concerning you is that you give thanks in everything. What does it mean to give thanks? To give thanks is to speak blessings. When you study the Gospel, there're several instances that show us how the Lord Jesus gave thanks by speaking blessings. In Matthew 26:26, just before His betrayal, the Bible says, "…as they were eating, Jesus took bread, and blessed it, and brake it, and gave it to the disciples, and said, Take, eat; this is my body."
On another occasion, before He fed a multitude with five loaves of bread and two pieces of fish, "…he looked up to heaven, and blessed, and brake the loaves, and gave them to his disciples to set before them; and the two fishes divided he among them all" (Mark 6:41). Notice what He did in both instances with the bread and the fish: He "blessed them."
Mark, in His writing, gave further insight to what Jesus did: He "gave thanks": "And he took the cup, and when he had given thanks, he gave it to them: and they all drank of it" (Mark 14:23). Mark 8:6 says: "And he commanded the people to sit down on the ground: and he took the seven loaves, and gave thanks, and brake, and gave to his disciples to set before them; and they did set them before the people."
So, when the Bible says that Jesus took bread and blessed it, what He actually did was to give thanks; the words that He spoke were words of thanks. Learn to bless. Remember, God speaks through you; He uses your mouth to "bless", to change circumstances, to bring deliverance and salvation to others. He uses your mouth to bring correction to issues, such that no matter what's going on in your life, or around you, He can mend it.
Hebrews 11:3 says, "Through faith we understand that the worlds were framed by the word of God…." In other words, through the "rhema" of God, God would bring a blessing where a curse had been intended; He'll bring about prosperity, success, peace and victory where poverty, failure, defeat or destruction had been intended. Hallelujah!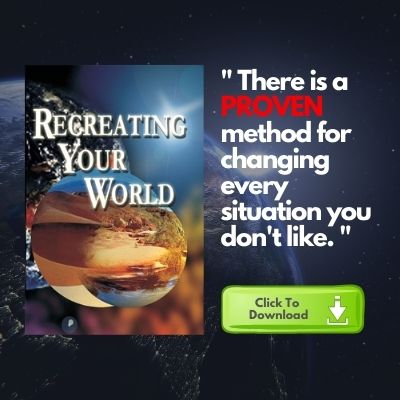 Click Here To Download Recreating Your World By Pastor Chris Oyakhilome
Every so often, declare, "Father, I thank you in the Name of Jesus; I offer thanks for, and in this situation,
because it is corrected; it is working out for my good, and your perfect will is established." Hallelujah! Even in "blessing" the Lord, it's the same thing; you bless Him by giving thanks. Without the "thanks" in it, it would be empty.
PRAYER
Dear heavenly Father, I speak blessings in everything; I speak blessings over my family, and invoke your prosperity over my job, finances, health, ministry and all that concerns me. I thank you for your grace, power and love that's manifested in all areas of my life, in Jesus' Name. Amen.
FURTHER STUDY: || Colossians 3:17 – And whatsoever ye do in word or deed, do all in the name of the Lord Jesus, giving thanks to God and the Father by him. ||
|| Psalm 118:1 –  O give thanks unto the Lord; for he is good: because his mercy endureth for ever. ||
|| Psalm 105:1-2 – O give thanks unto the Lord; call upon his name: make known his deeds among the people. 2 Sing unto him, sing psalms unto him: talk ye of all his wondrous works. ||
|| Psalm 41:13 – Blessed be the Lord God of Israel from everlasting, and to everlasting. Amen, and Amen. ||
DAILY SCRIPTURE READING
1 Year Bible Reading Plan=> 1 Timothy 4:1-16 & Jeremiah 11-12
2 Year Bible Reading Plan=> John 7:1-10 & 2 Kings 9
Rev. Chris Oyakhilome D.Sc., D.D, the President of LoveWorld Inc. , a dynamic, multifaceted, global ministry, is the author of Rhapsody of Realities, the world's #1 daily devotional, and more than 30 other books. He's a dedicated minister of God's Word whose message has brought the reality of the divine life to the hearts of many.
Millions have been affected by his television broadcast, "Atmosphere For Miracles," which brings God's divine presence right into people's homes. The scope of his television ministry extends throughout the world with LoveWorld satellite television networks delivering qualitative Christian programming to a global audience.
At the world-renowned Healing School, he manifests the healing works of Jesus Christ and has helped many receive healing through the operation of the gifts of the Spirit.
Pastor Chris has a passion to reach the peoples of the world with God's presence—a divine commission he's fulfilled for more than 30 years through various outreaches, crusades, as well as several other platforms that have helped millions experience a victorious and purposeful life in God's Word.