RHAPSODY OF REALITIES DAILY DEVOTIONAL ;
HE WANTS YOUR HEART.
Monday, September 14th, 2020;
Pastor Chris Oyakhilome;
My son, give me thine heart, and let thine eyes observe my ways (Proverbs 23:26).
People are the same, irrespective of their condition. That is to say, the poor and the rich, for example, are exactly the same, except there's a transformation in their hearts. If a man is poor and wicked, he won't be different when he becomes rich. While poor, he doesn't have the resources to carry out the wickedness in his heart. So, when he becomes rich, he's able to prosecute the wickedness in his heart with his resources.
Money amplifies character. People only carry out the good or bad in their hearts, depending on their resources. Jesus said, "Either make the tree good, and his fruit good; or else make the tree corrupt, and his fruit corrupt…" (Matthew 12:33). This means people aren't different from how they are inside. So, what does God want? He wants a change in your heart; a transformation inside.
That's why He sets up His kingdom first in your heart. He puts His love first in your heart. Your heart is where He seeks to work; that's where all His blessings are. Then from your heart, they can flow out to others. Being born again, you have the life and nature of God in your heart; and now in Christ, you're a life-giver.
The transformation and glory evident in your soul and body are the result of the impact and influence of the life and nature of God in your spirit. In our theme verse, He says, "My son, give me thine heart…." If you've never been born again, this is your moment; give Him your heart. Turn to the Prayer Of Salvation page at the back of this devotional and pray that prayer, from the bottom of your heart.
What can you see?

"The Extent of your vision is the boundary of your Blessing" ~ Pastor Chris.
Expand your Vision and walk in the Reality of God's plan for your life each day!
Discover how through the New Mobile App!
Download from Google Play store.
Download, Subscribe & Share.
PRAYER
Dear Father, thank you for setting up your Kingdom in my heart. With my heart, I envision and apprehend the realities of the Gospel and of our Kingdom-life. I pray for the unsaved around the world, that their hearts be open to receive the Gospel, and be saved; that your power for salvation will mantle their hearts even now, in Jesus' Name. Amen.
God's Word can make a Champion out of anyone. By gifting the Rhapsody Of Realities to Refugees, you would be giving them the opportunity of a lifetime. Sponsor Copies Today:
FURTHER STUDY: || Luke 6:45 A good man out of the good treasure of his heart bringeth forth that which is good; and an evil man out of the evil treasure of his heart bringeth forth that which is evil: for of the abundance of the heart his mouth speaketh. ||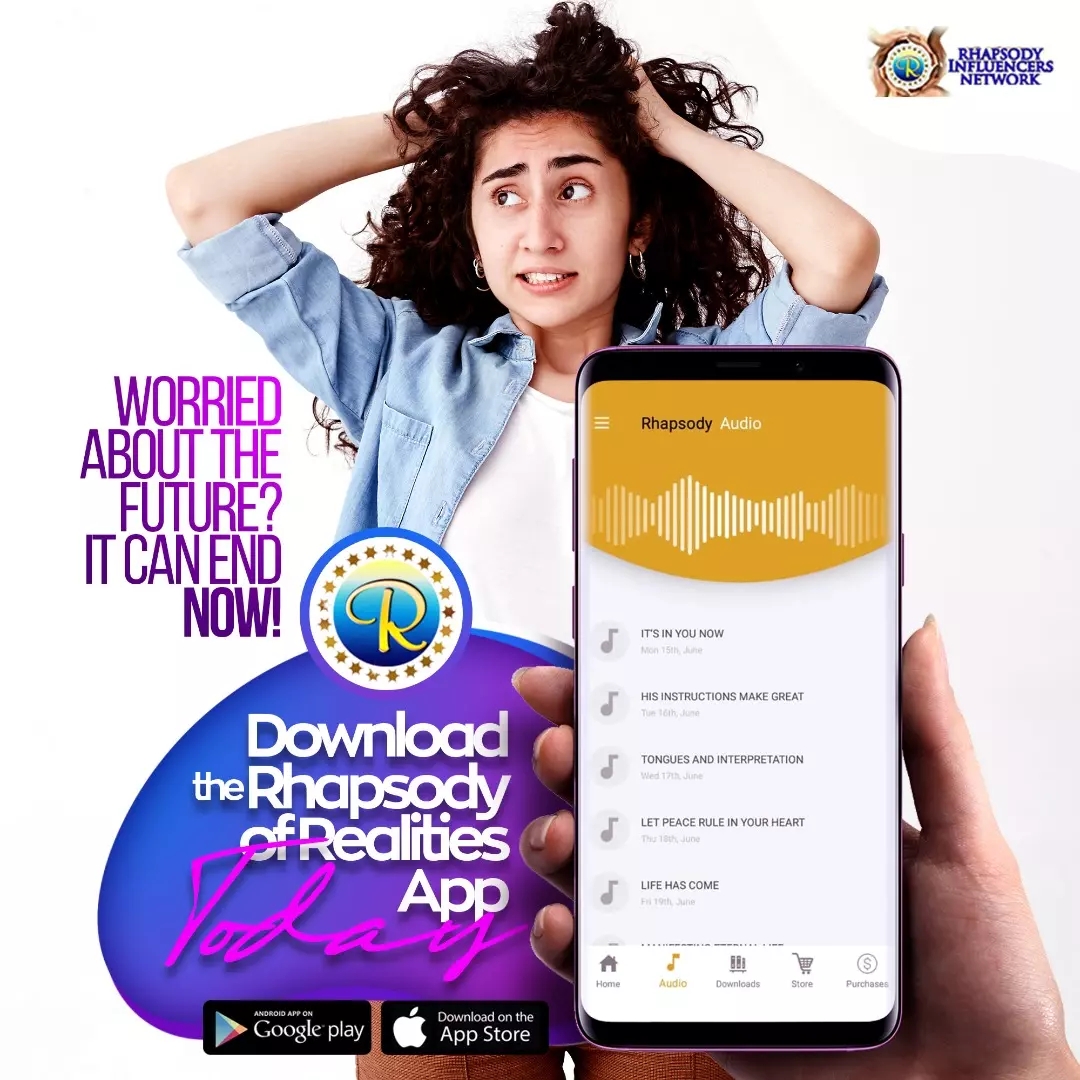 || Hebrews 10:22 Let us draw near with a true heart in full assurance of faith, having our hearts sprinkled from an evil conscience, and our bodies washed with pure water. ||
JOIN RHAPSODY INFLUENCER NETWORK:
DAILY SCRIPTURE READING
1-Year Bible Reading Plan=> 2 Corinthians 13:1-14 & Ecclesiastes 6-8
2-Year Bible Reading Plan=> 1 Timothy 1:15-20 & Jeremiah 32
Through an anointed ministry spanning over 30 years, Pastor, teacher, healing minister, television host, and best-selling author Rev. Dr. Chris Oyakhilome Dsc. DD. has helped millions experience a victorious and purposeful life in God's word.
He is the author of the bestseller Rhapsody of Realities, the number one daily devotional around the world. Several millions of copies of the best-selling daily devotional and Bible-study guide have been distributed in over 2010 languages of the world including Afrikaans, Arabic, Cantonese, Croatian, Dutch, English, Finnish, French, German, Hindi, Icelandic, Italian, Mandarin, Myanmar, Portuguese, Russian, Spanish, Swahili…and still counting! New languages are added regularly, making the devotional accessible to many more in different parts of the globe, thus bringing the richness of God's Word into their lives. Little wonder the devotional, oftentimes, is referred to as the "Messenger Angel".
Presiding over an ever-widening network of Christ Embassy Churches and campus fellowships on all five continents, Pastor Chris also pastors one of the largest congregations in Africa. He holds massive teaching and healing crusades like the Higher Life conference and Night of Bliss with crowds of over 3.5 million in a single night's event.
The world-renowned Healing School is a ministry of Pastor Chris which manifests the healing works of Jesus Christ today and has helped many receive healings and miracles through the gifts of the Spirit in operation.
Pastor Chris in the year 2003, pioneered the first 24-hour Christian Network from Africa to the rest of the world, and this gave rise to more satellite stations on other continents of the world, the LoveWorld USA in America, LoveWorld TV in the UK, LoveWorld SAT in South-Africa and LoveWorld PLUS in Nigeria and still counting. Through this medium, millions of people have been reached with the beautiful message of salvation and many lives have been transformed. These stations are also available on the mobile platform.
Pastor Chris is also the host of "Atmosphere for Miracles", a programme airing on major television networks in the United States of America, the United Kingdom, Asia, Europe and around the world, which brings God's divine presence right into the homes of millions around the world. With a burning desire to bring God's word to all men in simplicity and with the power of the spirit, the man of God, 
Rev. Dr. Chris Oyakhilome Dsc. DD, established the International School Of Ministry, specifically to train and equip ministers of the gospel of Christ, building in them the realities of God's word and empowering them to carry the message of eternal life in Christ Jesus to their world, with a great demonstration of the miraculous power of God.
Pastor Chris also pioneered the establishment of the Inner City Mission of Christ Embassy, a ministry to children living in the inner cities of our world, to give them a hope and a future.