RHAPSODY OF REALITIES DAILY DEVOTIONAL ;
IT'S ALL PART OF GOD'S PLAN
Monday, August 31th, 2020;
Pastor Chris Oyahkilome;
Do not conform yourselves to the standards of this world, but let God transform you inwardly by a complete change of your mind. Then you will be able to know the will of God—what is good and is pleasing to him and is perfect (Romans 12:2 GNB).
As a Christian, every person who comes into your world has a role to play, whether good or bad. You'll surely come across different kinds of people in your journey of life. No matter how they relate with you, recognise that God has placed them along your path for your benefit.
It doesn't make any difference whether they're helpful or hostile; their relationship with you is part of God's plan to promote you. Once you understand this, you'll be happy and grateful to God for anyone who comes into your world. A playwright once said, "All the world is a stage, and all the men and women merely players; they have their entrances and their exits, and one man in his time plays many parts."
Your only concern should be to please your heavenly Father. Don't get concerned about the wrongs done to you; ignore the negative actions, comments or ill-treatments from others. Only respond in love to those who hurt or despitefully use you.
The highest and topmost quality of God's character is living out His love in you, for the Bible says "…the love of God is shed abroad in our hearts by the Holy Ghost which is given unto us" (Romans 5:5). You're a testimony of the Father's love, and your life is an outshining of that great love—unconditional and self-giving. Hallelujah!
SEPTEMBER EDITION Of Rhapsody of Realities Now Available Exclusive to the New Rhapsody Mobile App
CONFESSION
It makes no difference how I'm treated by anyone, I respond only in love and kindness, because the love of God has been shed in abundance in my heart by the Holy Spirit. Every day and in all circumstances, I'm living out that love in me that the Name of Jesus may be glorified. Amen.
REGISTER TODAY FOR RIN ADVANCE SUMMIT
FURTHER STUDY: Matthew 5:43-48 Ye have heard that it hath been said, Thou shalt love thy neighbour, and hate thine enemy. 5:44 But I say unto you, Love your enemies, bless them that curse you, do good to them that hate you, and pray for them which despitefully use you, and persecute you; 5:45 That ye may be the children of your Father which is in heaven: for he maketh his sun to rise on the evil and on the good, and sendeth rain on the just and on the unjust. 5:46 For if ye love them which love you, what reward have ye? do not even the publicans the same? 5:47 And if ye salute your brethren only, what do ye more than others? do not even the publicans so? 5:48 Be ye therefore perfect, even as your Father which is in heaven is perfect.
SEPTEMBER RHAPSODY COMPLETE ARTICLES
DAILY SCRIPTURE READING
1-Year Bible Reading Plan=> 1 Corinthians 15:1-34 & Proverbs 5-7
2-Year Bible Reading Plan=> 1 Thessalonians 2:1-9 & Jeremiah 17
EXCERPT FROM: Rhapsody of Realities Daily Devotional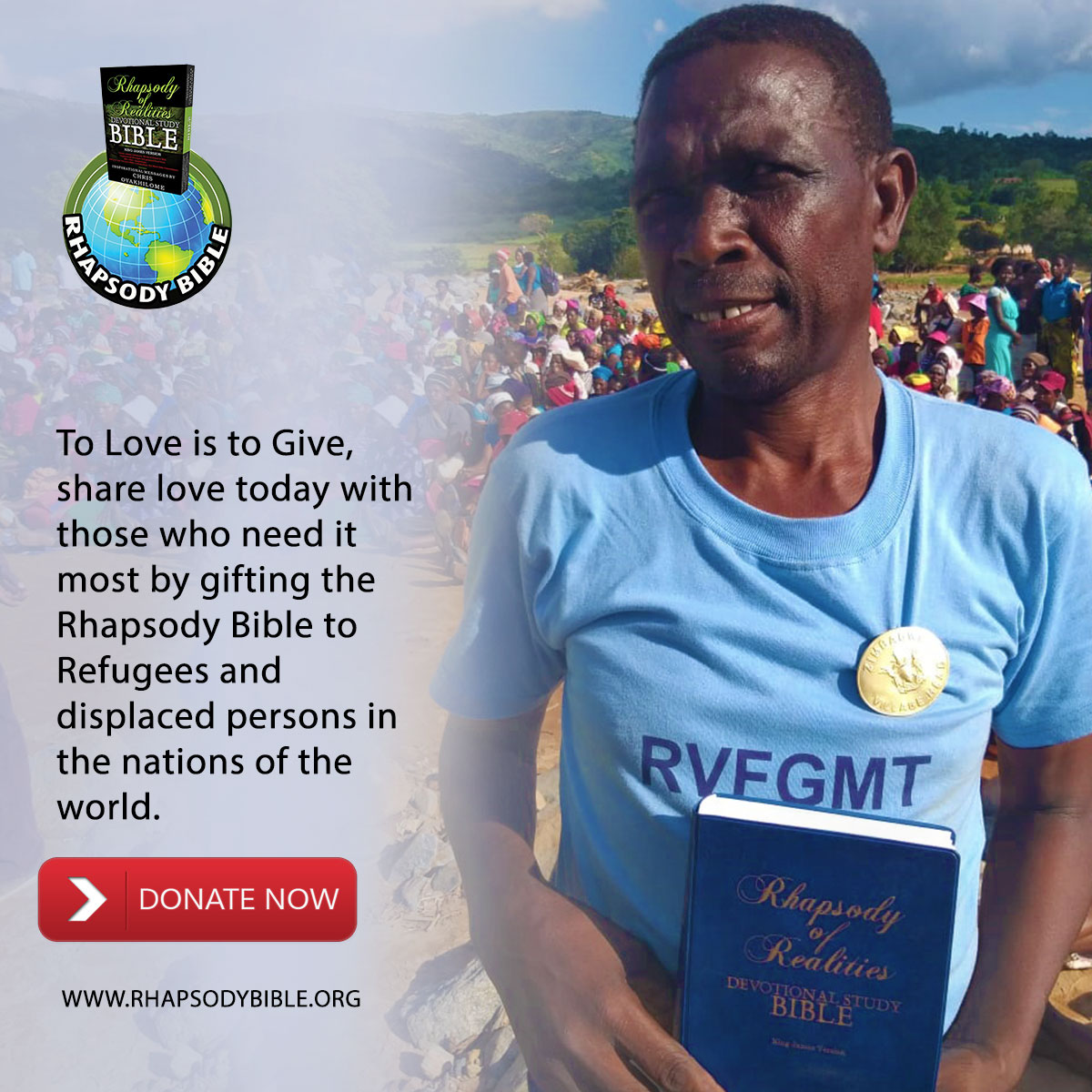 Through an anointed ministry spanning over 30 years, Pastor, teacher, healing minister, television host, and best-selling author Rev. Dr. Chris Oyakhilome Dsc. DD. has helped millions experience a victorious and purposeful life in God's word.
He is the author of the bestseller Rhapsody of Realities, the number one daily devotional around the world. Several millions of copies of the best-selling daily devotional and Bible-study guide have been distributed in over 2010 languages of the world including Afrikaans, Arabic, Cantonese, Croatian, Dutch, English, Finnish, French, German, Hindi, Icelandic, Italian, Mandarin, Myanmar, Portuguese, Russian, Spanish, Swahili…and still counting! New languages are added regularly, making the devotional accessible to many more in different parts of the globe, thus bringing the richness of God's Word into their lives. Little wonder the devotional, oftentimes, is referred to as the "Messenger Angel".
Presiding over an ever-widening network of Christ Embassy Churches and campus fellowships on all five continents, Pastor Chris also pastors one of the largest congregations in Africa. He holds massive teaching and healing crusades like the Higher Life conference and Night of Bliss with crowds of over 3.5 million in a single night's event.
The world-renowned Healing School is a ministry of Pastor Chris which manifests the healing works of Jesus Christ today and has helped many receive healings and miracles through the gifts of the Spirit in operation.
Pastor Chris in the year 2003, pioneered the first 24-hour Christian Network from Africa to the rest of the world, and this gave rise to more satellite stations on other continents of the world, the LoveWorld USA in America, LoveWorld TV in the UK, LoveWorld SAT in South-Africa and LoveWorld PLUS in Nigeria and still counting. Through this medium, millions of people have been reached with the beautiful message of salvation and many lives have been transformed. These stations are also available on the mobile platform.
Pastor Chris is also the host of "Atmosphere for Miracles", a programme airing on major television networks in the United States of America, the United Kingdom, Asia, Europe and around the world, which brings God's divine presence right into the homes of millions around the world. With a burning desire to bring God's word to all men in simplicity and with the power of the spirit, the man of God, 
Rev. Dr. Chris Oyakhilome Dsc. DD, established the International School Of Ministry, specifically to train and equip ministers of the gospel of Christ, building in them the realities of God's word and empowering them to carry the message of eternal life in Christ Jesus to their world, with a great demonstration of the miraculous power of God.
Pastor Chris also pioneered the establishment of the Inner City Mission of Christ Embassy, a ministry to children living in the inner cities of our world, to give them a hope and a future.