THE CHURCH IS GOD'S TREASURE.
RHAPSODY OF REALITIES DAILY DEVOTIONAL
Sunday, September 6th, 2020;
Pastor Chris Oyakhilome;
And I say also unto thee, That thou art Peter, and upon this rock I will build my church; and the gates of hell shall not prevail against it (Matthew 16:18).
In Matthew 13:44, Jesus said, "Again, the kingdom of heaven is like unto treasure hid in a field; the which when a man hath found, he hideth, and for joy thereof goeth and selleth all that he hath, and buyeth that field." Jesus bought the whole field because of the treasure in the field. The treasure is the Church, and the field is the world.
Jesus bought the whole world with the price of His own blood, because of the Church; He gave everything. This tells us what Satan wants. When he creates or inspires crises in the world, his eyes are on God's children, the Church. His end game is always to go after the Church of Jesus Christ. He's completely averse to God's people serving and worshipping God freely. But he's a failure.
Why is Satan so much against the Church? It's because the Church—you and I—have what Satan lusted for from the very beginning. He had said, "…I will be like the most High" (Isaiah 14:14), but he couldn't. Rather, he was kicked out of heaven. Then he found out the Church, which Jesus created, would share God's Name, share God's throne—His seat—with Him!
Today, we're one with God by virtue of Christ's love. Jesus said, I will build my Church, and the gates of hell shall not prevail against it. That's a truth that can't be broken. Hallelujah! There's no force in the universe that can stand against the Church. Don't see the Church as a mere organization; it's the sacred body of Jesus Christ—His pearl of great price.
EXCITING NEWS
THE LIMITATION HAS BEEN TAKEN AWAY
Rhapsody Releases Top 10 New languages of the world on the Rhapsody App.
To Download Now From Your Google Play Or Apple Stores today.
Now, you can enjoy Rhapsody of Realities in your local language.
Download, Subscribe and Share.
CONFESSION
The Church of Jesus Christ is making impact with great glory, greater ability and unstoppable influence. We're giving no place to Satan, because greater is He that's in us than he that's in the world. And Christians around the world are on the alert to continually neutralise all of Satan's strategems and manoeuvres against the Church, in Jesus' Name. Amen.
AGENTS OF CHANGE
Dare to be different; dare to make impact in your world; Rhapsody of Realities is a great place to start! Sponsor a free gift of the Rhapsody of Realities Daily Devotional and impact a life, today! ACT NOW
|| FURTHER STUDY: Exodus 19:5 Now therefore, if ye will obey my voice indeed, and keep my covenant, then ye shall be a peculiar treasure unto me above all people: for all the earth [is] mine: ||
|| Titus 2:14 Who gave himself for us, that he might redeem us from all iniquity, and purify unto himself a peculiar people, zealous of good works. ||
|| 1 Peter 9:2 AMPC But you are a chosen race, a royal priesthood, a dedicated nation, [God's] own [d]purchased, special people, that you may set forth the wonderful deeds and display the virtues and perfections of Him Who called you out of darkness into His marvelous light. ||
BECOME A RHAPSODY INFLUENCER TODAY
DAILY SCRIPTURE READING
1-Year Bible Reading Plan=> 2 Corinthians 5:1-6:1-2 & Proverbs 18-19
2-Year Bible Reading Plan=> 1 Thessalonians 5:12-28 & Jeremiah 24
SEPTEMBER SPECIAL GIFT
EXCERPT FROM: Rhapsody Of Realities Daily Devotional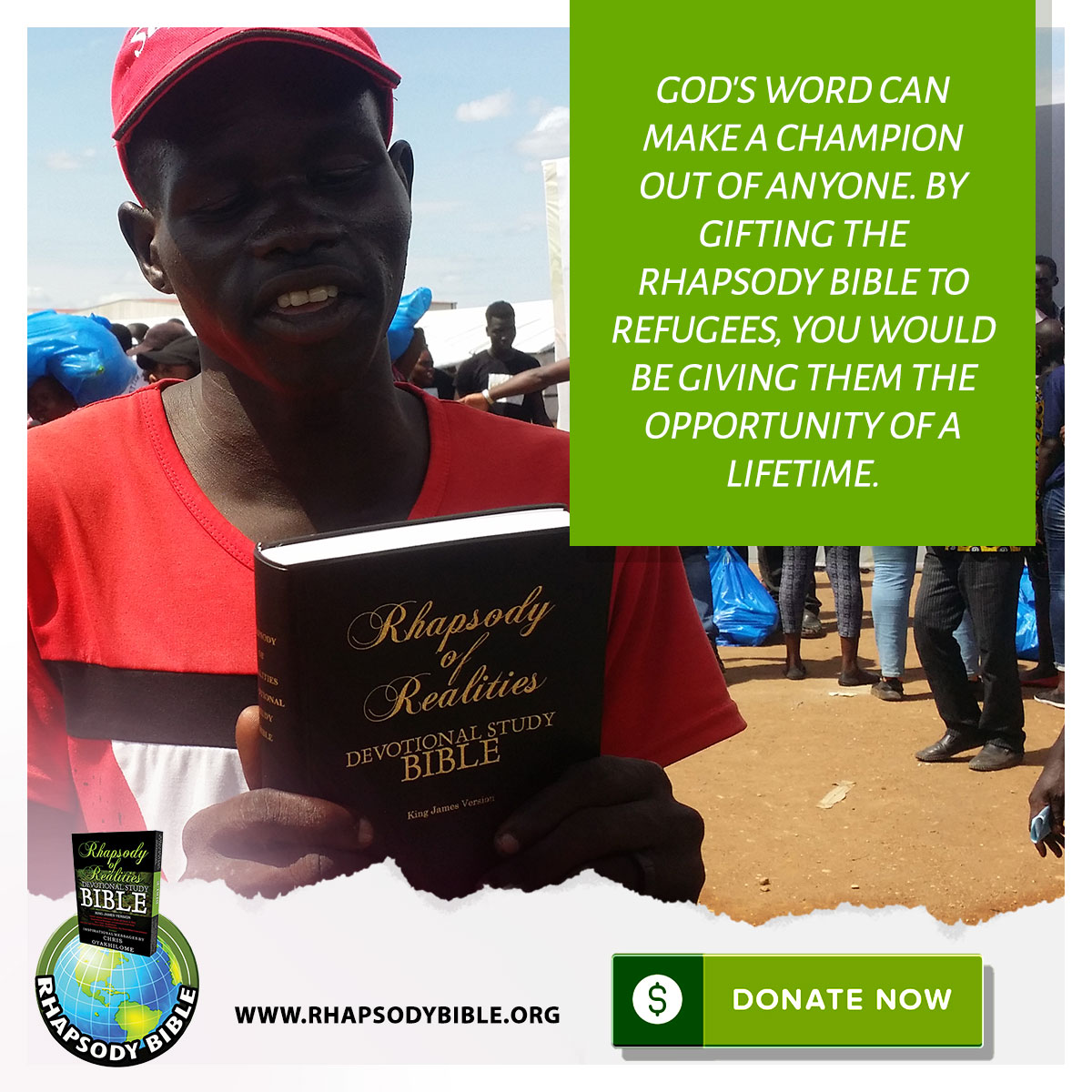 Through an anointed ministry spanning over 30 years, Pastor, teacher, healing minister, television host, and best-selling author Rev. Dr. Chris Oyakhilome Dsc. DD. has helped millions experience a victorious and purposeful life in God's word.
He is the author of the bestseller Rhapsody of Realities, the number one daily devotional around the world. Several millions of copies of the best-selling daily devotional and Bible-study guide have been distributed in over 2010 languages of the world including Afrikaans, Arabic, Cantonese, Croatian, Dutch, English, Finnish, French, German, Hindi, Icelandic, Italian, Mandarin, Myanmar, Portuguese, Russian, Spanish, Swahili…and still counting! New languages are added regularly, making the devotional accessible to many more in different parts of the globe, thus bringing the richness of God's Word into their lives. Little wonder the devotional, oftentimes, is referred to as the "Messenger Angel".
Presiding over an ever-widening network of Christ Embassy Churches and campus fellowships on all five continents, Pastor Chris also pastors one of the largest congregations in Africa. He holds massive teaching and healing crusades like the Higher Life conference and Night of Bliss with crowds of over 3.5 million in a single night's event.
The world-renowned Healing School is a ministry of Pastor Chris which manifests the healing works of Jesus Christ today and has helped many receive healings and miracles through the gifts of the Spirit in operation.
Pastor Chris in the year 2003, pioneered the first 24-hour Christian Network from Africa to the rest of the world, and this gave rise to more satellite stations on other continents of the world, the LoveWorld USA in America, LoveWorld TV in the UK, LoveWorld SAT in South-Africa and LoveWorld PLUS in Nigeria and still counting. Through this medium, millions of people have been reached with the beautiful message of salvation and many lives have been transformed. These stations are also available on the mobile platform.
Pastor Chris is also the host of "Atmosphere for Miracles", a programme airing on major television networks in the United States of America, the United Kingdom, Asia, Europe and around the world, which brings God's divine presence right into the homes of millions around the world. With a burning desire to bring God's word to all men in simplicity and with the power of the spirit, the man of God, 
Rev. Dr. Chris Oyakhilome Dsc. DD, established the International School Of Ministry, specifically to train and equip ministers of the gospel of Christ, building in them the realities of God's word and empowering them to carry the message of eternal life in Christ Jesus to their world, with a great demonstration of the miraculous power of God.
Pastor Chris also pioneered the establishment of the Inner City Mission of Christ Embassy, a ministry to children living in the inner cities of our world, to give them a hope and a future.