RHAPSODY OF REALITIES DAILY DEVOTIONAL ;
THE CONSCIOUSNESS OF YOUR DIVINE ESSENCE.
Saturday, September 26th,2020;
Pastor Chris Oyakhilome;
Ye are of God, little children, and have overcome them: because greater is he that is in you, than he that is in the world (1 John 4:4).
Many don't understand the Spirit's language in the verse above when it says, "Ye are of God…"; it means you hail from God; you're born of Him. This is what makes the Christian a divine being, and not a mere human person. Hallelujah!
This is where some have missed it; their lack of consciousness of who they really are in Christ. The Apostle John, addressing this, said in 1 John 5:13, "These things have I written unto you that believe on the name of the Son of God; that ye may know that ye have eternal life…." God wants you to have the conscious, active knowledge that His life is in you. You're a divine life-carrier; a God-conveyor.
Referring to the Lord Jesus, the Bible says "…in him dwelleth all the fullness of the Godhead bodily. And ye are complete in him…" (Colossians 2:9-10). Notice the expression, "And ye are complete in Him…." This means all of divinity resides in you as it does Jesus. No wonder Peter calls us "Associates of the God-kind"; partakers of the divine nature (2 Peter 1:4).
You're filled or replete with God. That's what it means to be "complete in Him"; nothing else needs to be in you to make you divine. This is why sickness, disease and infirmity can't be a part of your life. If you'd meditate on the God-life in you, you'd never be sick another day of your life.
You were born, not of blood, nor of the will of the flesh, nor of the will of man, but of God (John 1:13). The same life that makes it impossible for God to get sick, be defeated or have anything "happen" to Him is what you have in you. Your consciousness of this reality will make you eternally triumphant and walk in dominion every day of your life. Glory to God!
The Global Day of Prayer with Pastor Chris is STILL ON, watch any time, any moment of today, using any of these links below: http://bit.ly/GDOPwithPastorchris
SPREAD THESE LINKS TO ALL YOUR CONTACTS
Do join us for grand finale with Pastor Chris & Pastor Benny Hinn using these links
CONFESSION
Blessed be God! I have and walk in the consciousness of my divine essence; I walk in dominion over sickness, disease, death and the elements of this world. Christ in me is greater than all; and I celebrate my oneness with the Lord, today and always, in Jesus' Name. Amen.
FURTHER STUDY: || 2 Peter 1:4 Whereby are given unto us exceeding great and precious promises: that by these ye might be partakers of the divine nature, having escaped the corruption that is in the world through lust. ||
|| John 5:26 For as the Father hath life in himself; so hath he given to the Son to have life in himself; ||
|| 1 John 5:11-13 And this is the record, that God hath given to us eternal life, and this life is in his Son. 12 He that hath the Son hath life; [and] he that hath not the Son of God hath not life. 13 These things have I written unto you that believe on the name of the Son of God; that ye may know that ye have eternal life, and that ye may believe on the name of the Son of God. ||
DAILY SCRIPTURE READING
1-Year Bible Reading Plan=> Ephesians 3:1-21 & Isaiah 19-22
2-Year Bible Reading Plan=> 2 Timothy 2:1-10 & Jeremiah 44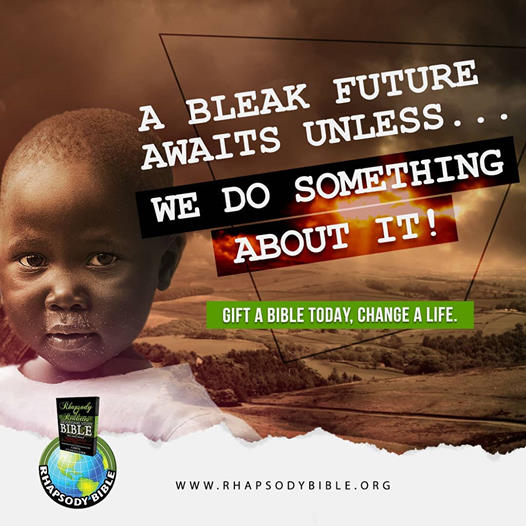 Through an anointed ministry spanning over 30 years, Pastor, teacher, healing minister, television host, and best-selling author Rev. Dr. Chris Oyakhilome Dsc. DD. has helped millions experience a victorious and purposeful life in God's word.
He is the author of the bestseller Rhapsody of Realities, the number one daily devotional around the world. Several millions of copies of the best-selling daily devotional and Bible-study guide have been distributed in over 2010 languages of the world including Afrikaans, Arabic, Cantonese, Croatian, Dutch, English, Finnish, French, German, Hindi, Icelandic, Italian, Mandarin, Myanmar, Portuguese, Russian, Spanish, Swahili…and still counting! New languages are added regularly, making the devotional accessible to many more in different parts of the globe, thus bringing the richness of God's Word into their lives. Little wonder the devotional, oftentimes, is referred to as the "Messenger Angel".
Presiding over an ever-widening network of Christ Embassy Churches and campus fellowships on all five continents, Pastor Chris also pastors one of the largest congregations in Africa. He holds massive teaching and healing crusades like the Higher Life conference and Night of Bliss with crowds of over 3.5 million in a single night's event.
The world-renowned Healing School is a ministry of Pastor Chris which manifests the healing works of Jesus Christ today and has helped many receive healings and miracles through the gifts of the Spirit in operation.
Pastor Chris in the year 2003, pioneered the first 24-hour Christian Network from Africa to the rest of the world, and this gave rise to more satellite stations on other continents of the world, the LoveWorld USA in America, LoveWorld TV in the UK, LoveWorld SAT in South-Africa and LoveWorld PLUS in Nigeria and still counting. Through this medium, millions of people have been reached with the beautiful message of salvation and many lives have been transformed. These stations are also available on the mobile platform.
Pastor Chris is also the host of "Atmosphere for Miracles", a programme airing on major television networks in the United States of America, the United Kingdom, Asia, Europe and around the world, which brings God's divine presence right into the homes of millions around the world. With a burning desire to bring God's word to all men in simplicity and with the power of the spirit, the man of God, 
Rev. Dr. Chris Oyakhilome Dsc. DD, established the International School Of Ministry, specifically to train and equip ministers of the gospel of Christ, building in them the realities of God's word and empowering them to carry the message of eternal life in Christ Jesus to their world, with a great demonstration of the miraculous power of God.
Pastor Chris also pioneered the establishment of the Inner City Mission of Christ Embassy, a ministry to children living in the inner cities of our world, to give them a hope and a future.