RHAPSODY OF REALITIES DAILY DEVOTIONAL
THE SECRET PLACE OF THE MOST HIGH
Wednesday, October 27th.
Pastor Chris Oyakhilome;
Lord, thou hast been our dwelling place in all generations (Psalm 90:1).
In this day and age, when there's so much trouble and crises, with a seemingly overwhelming spread of evil around the world, many are thinking, "Is there hope?" But when you study the Scriptures, you'll understand God's divine plan for His children in a tempestuous world. For example, Psalm 91; the first verse is as inspiring as it is comforting. It says, "He that dwelleth in the secret place of the most High shall abide under the shadow of the Almighty."
Your location in the Spirit is the "secret place of the most high"; that was the best way the psalmist could put it. The second verse (Psalm 91:2) sheds more light on it; it says, "I will say of the LORD, He is my refuge and my fortress: my God; in him will I trust." That means the Lord Himself is that secret place, because He is your refuge and your fortress. Therefore, that you dwell in the secret place of the most high means you dwell in Him. In the New Testament, that place is called Christ: "…if any man be in Christ…" (2 Corinthians 5:17).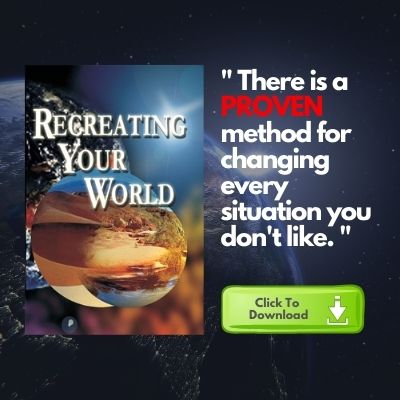 Click Here To Download Recreating Your World By Pastor Chris Oyakhilome
Notice the underlined expression, "in Christ," showing that Christ is a place in God. How could anyone be disadvantaged in Christ? It's impossible! In Christ is glory only—always and forever! In Christ is life forevermore; you're shielded from harm, evil and destruction. No wonder it says in Psalm 91:7 NIV "A thousand may fall at your side, ten thousand at your right hand, but it will not come near you."

PRAYER
Dear Father, thank you for your glory in my life, for your presence in and around me. No weapon fashioned against me shall prosper, because I dwell in the secret place of the most high, and I abide under the shadow of the Almighty. The greater One lives in me, and in Him and through Him, I reign and triumph gloriously over Satan and the elements of this world, in Jesus' Name. Amen.
FURTHER STUDY: || Isaiah 43:2 – When thou passest through the waters, I will be with thee; and through the rivers, they shall not overflow thee: when thou walkest through the fire, thou shalt not be burned; neither shall the flame kindle upon thee. ||
|| John 16:33 –  These things I have spoken unto you, that in me ye might have peace. In the world ye shall have tribulation: but be of good cheer; I have overcome the world. ||
DAILY SCRIPTURE READING
1 Year Bible Reading Plan=> 2 Timothy 3:1-17 & Jeremiah 23-25
2 Year Bible Reading Plan=> John 8:1-11 & 2 Kings 17-18
Rev. Chris Oyakhilome D.Sc., D.D, the President of LoveWorld Inc. , a dynamic, multifaceted, global ministry, is the author of Rhapsody of Realities, the world's #1 daily devotional, and more than 30 other books. He's a dedicated minister of God's Word whose message has brought the reality of the divine life to the hearts of many.
Millions have been affected by his television broadcast, "Atmosphere For Miracles," which brings God's divine presence right into people's homes. The scope of his television ministry extends throughout the world with LoveWorld satellite television networks delivering qualitative Christian programming to a global audience.
At the world-renowned Healing School, he manifests the healing works of Jesus Christ and has helped many receive healing through the operation of the gifts of the Spirit.
Pastor Chris has a passion to reach the peoples of the world with God's presence—a divine commission he's fulfilled for more than 30 years through various outreaches, crusades, as well as several other platforms that have helped millions experience a victorious and purposeful life in God's Word.