RHAPSODY OF REALITIES DAILY DEVOTIONAL ;
TRUST LIKE A CHILD.
Sunday, September 27th, 2020;
Pastor Chris Oyakhilome;
Trust in the LORD with all thine heart; and lean not unto thine own understanding (Proverbs 3:5).
Being trusting isn't the same as being gullible, and recognising this distinction is essential because there're gullible people who think they're trusting. To be gullible means to be easily deceived. But children aren't easily deceived; they're usually trusting. They trust your character. Adults, however, can be gullible. An adult will try to reason out whatever he's told before he trusts it, and he may not give much concern to the character of the one he's trusting.
If you hold out a child from the balcony, for example, and ask someone else whom the child trusts to stay at the ground-floor and catch him, the child will be ready to let go because he trusts the one at the ground floor. The child may not know if the fellow downstairs has the power or ability to catch him, but he believes he wouldn't let him fall. That's the kind of childlike faith you're to have towards God.
The Lord Jesus admonished in Matthew 18:3 (AMPC) that we be like little children, "…[trusting, lowly, loving, forgiving]…." He wants you to trust the character of God. His character is made plain in the Word; He never fails. Boldly place your confidence in Him to fulfil His purpose in your life.
Sometimes, many try to "help" God out in doing what He intends. Perhaps, He's given you a vision or ministered some ideas to you relating to your purpose, and you're so excited and eager to see everything work out, which is good! But if you're not trusting and yielded to the Holy Spirit, you may try to play "God." You may be playing His role by trying to help Him in your own wisdom. But the end result won't be pleasant.
The best of all is to trust that He alone knows and has the blueprint for your life. Take a cue from Abraham who trusted and followed the Lord even though He didn't know where God was leading Him. The Bible says, "By faith Abraham, when he was called to go out into a place which he should after receive for an inheritance, obeyed; and he went out, not knowing whither he went" (Hebrews 11:8).
Arise & Shine!
Be Enraptured in God's Presence daily as you study your Rhapsody of Realities using the New ROR Mobile App 3.0!
To Download Now from the Google Play & App Stores
Download, Subscribe & Share
PRAYER
Dear Father, I live my life, trusting you wholeheartedly in all things, leaning on your Word and acting on your instructions. I commit my plans, aspirations and desires to you, being fully convinced that you're more interested in, and passionate for my success than I could ever be, in Jesus' Name. Amen.
At any of the following times – 7:30am, 9:30am and 11:30am GMT +1.
FURTHER STUDY: || Proverbs 3:5-6 Trust in the LORD with all thine heart; and lean not unto thine own understanding. 6 In all thy ways acknowledge him, and he shall direct thy paths. ||
|| Psalm 18:30 [As for] God, his way [is] perfect: the word of the LORD is tried: he [is] a buckler to all those that trust in him. ||
BECOME A RHAPSODY INFLUENCER
DAILY SCRIPTURE READING
1-Year Bible Reading Plan=> Ephesians 4:1-16 & Isaiah 23-24
2-Year Bible Reading Plan=> 2 Timothy 2:11-26 & Jeremiah 45
EXCERPT FROM: Rhapsody Of Realities Daily Devotional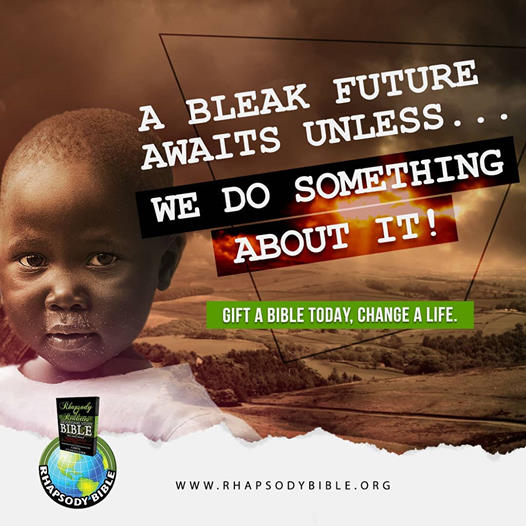 Through an anointed ministry spanning over 30 years, Pastor, teacher, healing minister, television host, and best-selling author Rev. Dr. Chris Oyakhilome Dsc. DD. has helped millions experience a victorious and purposeful life in God's word.
He is the author of the bestseller Rhapsody of Realities, the number one daily devotional around the world. Several millions of copies of the best-selling daily devotional and Bible-study guide have been distributed in over 2010 languages of the world including Afrikaans, Arabic, Cantonese, Croatian, Dutch, English, Finnish, French, German, Hindi, Icelandic, Italian, Mandarin, Myanmar, Portuguese, Russian, Spanish, Swahili…and still counting! New languages are added regularly, making the devotional accessible to many more in different parts of the globe, thus bringing the richness of God's Word into their lives. Little wonder the devotional, oftentimes, is referred to as the "Messenger Angel".
Presiding over an ever-widening network of Christ Embassy Churches and campus fellowships on all five continents, Pastor Chris also pastors one of the largest congregations in Africa. He holds massive teaching and healing crusades like the Higher Life conference and Night of Bliss with crowds of over 3.5 million in a single night's event.
The world-renowned Healing School is a ministry of Pastor Chris which manifests the healing works of Jesus Christ today and has helped many receive healings and miracles through the gifts of the Spirit in operation.
Pastor Chris in the year 2003, pioneered the first 24-hour Christian Network from Africa to the rest of the world, and this gave rise to more satellite stations on other continents of the world, the LoveWorld USA in America, LoveWorld TV in the UK, LoveWorld SAT in South-Africa and LoveWorld PLUS in Nigeria and still counting. Through this medium, millions of people have been reached with the beautiful message of salvation and many lives have been transformed. These stations are also available on the mobile platform.
Pastor Chris is also the host of "Atmosphere for Miracles", a programme airing on major television networks in the United States of America, the United Kingdom, Asia, Europe and around the world, which brings God's divine presence right into the homes of millions around the world. With a burning desire to bring God's word to all men in simplicity and with the power of the spirit, the man of God, 
Rev. Dr. Chris Oyakhilome Dsc. DD, established the International School Of Ministry, specifically to train and equip ministers of the gospel of Christ, building in them the realities of God's word and empowering them to carry the message of eternal life in Christ Jesus to their world, with a great demonstration of the miraculous power of God.
Pastor Chris also pioneered the establishment of the Inner City Mission of Christ Embassy, a ministry to children living in the inner cities of our world, to give them a hope and a future.