RHAPSODY OF REALITIES DAILY DEVOTIONAL
WE WIN ONLY AND ALWAYS
Wednesday, November 24th.
Pastor Chris Oyakhilome;
For…they which receive abundance of grace and of the gift of righteousness shall reign in life by one, Jesus Christ (Romans 5:17).
Blessed be God! The life we have in Christ is one of absolute mastery and dominion over circumstances. We win only and always! It makes no difference what's happening around you, maintain the mindset of a victor. Jesus said all things are possible to him that believes; that's you. This is the testimony of Jesus concerning you. That simply makes you a superman in Christ!
You have what it takes to fix any problem and help others out of trouble. That's part of the essence of being filled with the Spirit and having the Word of God in your heart and in your mouth. You become unshakeable.
God doesn't want you to live as a victim of life or circumstances. He's placed you in charge and in control. He wants you to use the Word of God to keep Satan in subjection. He wants you to use the Word to keep your body in health and keep yourself in prosperity. He wants you to discipline every situation with the Word of God.
God knows that as long as you're in your physical body, you're going to face crises in life. You're going to contend with forces of darkness. But they're not a factor, because He says, "Ye are of God, little children, and have overcome them: because greater is he that is in you, than he that is in the world" (1 John 4:4).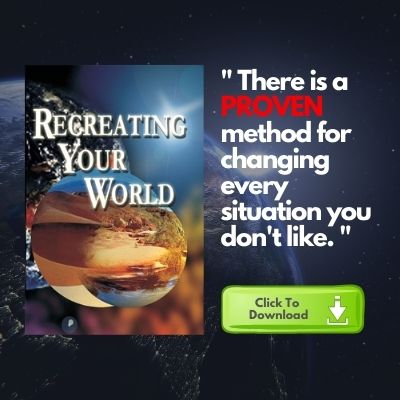 Click Here To Download Recreating Your World By Pastor Chris Oyakhilome
You were born a victor. Let that be the standpoint from which you view life. You're more than a conqueror; you're the blessed of God! You've been adequately furnished with every good and necessary thing you require for life and for godliness (2 Peter 1:3). So, stand up tall in Christ! You can never be disadvantaged. It's victory for you all the way—in all things and in every place: "Now thanks be unto God, which always causeth us to triumph in Christ, and maketh manifest the savour of his knowledge by us in every place" (2 Corinthians 2:14).
CONFESSION
I exercise my authority in Christ over all the power, strategies and manipulations of the adversary, and I'm eternally triumphant. I'm in charge always; I've overcome the world and its systems, its troubles and temptations, because greater is He that's in me, than he that's in the world. Hallelujah!
FURTHER STUDY: || 1 Corinthians 15:57 – But thanks be to God, which giveth us the victory through our Lord Jesus Christ. ||
|| John 16:33 –These things I have spoken unto you, that in me ye might have peace. In the world ye shall have tribulation: but be of good cheer; I have overcome the world. ||
|| 1 John 4:4 – Ye are of God, little children, and have overcome them: because greater is he that is in you, than he that is in the world. ||
DAILY SCRIPTURE READING
1 Year Bible Reading Plan=> 1 Peter 3 & Ezekiel 31-32
2 Year Bible Reading Plan=> John 14:10-21 & 1 Chronicles 24
Rev. Chris Oyakhilome D.Sc., D.D, the President of LoveWorld Inc. , a dynamic, multifaceted, global ministry, is the author of Rhapsody of Realities, the world's #1 daily devotional, and more than 30 other books. He's a dedicated minister of God's Word whose message has brought the reality of the divine life to the hearts of many.
Millions have been affected by his television broadcast, "Atmosphere For Miracles," which brings God's divine presence right into people's homes. The scope of his television ministry extends throughout the world with LoveWorld satellite television networks delivering qualitative Christian programming to a global audience.
At the world-renowned Healing School, he manifests the healing works of Jesus Christ and has helped many receive healing through the operation of the gifts of the Spirit.
Pastor Chris has a passion to reach the peoples of the world with God's presence—a divine commission he's fulfilled for more than 30 years through various outreaches, crusades, as well as several other platforms that have helped millions experience a victorious and purposeful life in God's Word.